Andy Murray's amazing comeback winning a gruelling 3 hour match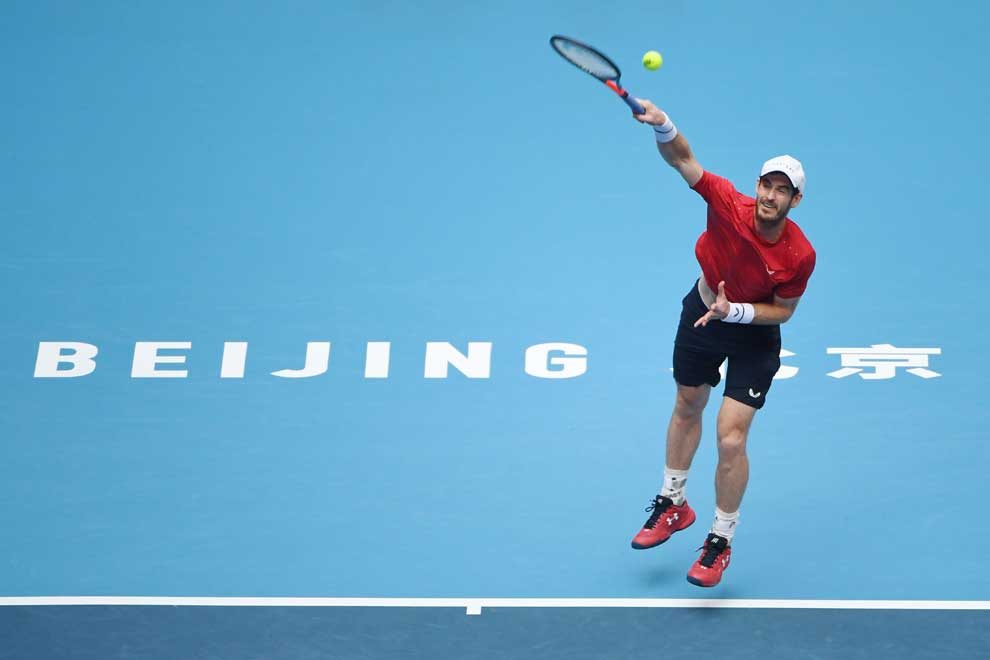 Lasting 3 hours Murray made world news defeating a top 20 player to reach China Open 3rd round after hip resurfacing surgery only in January.
In a display of remarkable physical prowess and mental strength, Andy Murray beat fellow Brit Cam Norrie 7-6, 6-7, 6-1 in the 2nd round of the China Open. The 32-year-old served for the first set at 5-3, but Norrie forced a tiebreak and saved three set points before eventually serving a double fault to hand Murray the opener. Murray was clearly physically exhausted when 5-2 down in the second set, breathing hard and looking constantly to his support on the bench, but Norrie then lost the tiebreak to Murray. Norrie then served another double fault to be broken early in the decider and Murray, went on to show his skill and class to win the match.
Admitting that he was both mentally and physically exhausted after the epic battle, Murray said;
"Me and Cam practised three or four times back home before we came to Asia and he was getting the better of me. The first set we were both quite nervous. It's always tricky playing someone you know quite well. I have tomorrow off so I get a day's rest."
The 3 time Grand Slam Winner had earlier seriously contemplated retiring completely from Tennis due to severe hip pain.
"When I spoke to my team then, I was like, 'I need to stop because I can't keep doing this'. Matches or practice sets like the one against Djokovic was where I also realised I was right. I couldn't serve properly, I couldn't run properly. I knew I couldn't play any more so we discussed stopping."
Murray admitted that he had been in constant pain every day and that he was struggling to put his socks on, walk the dog, and play with his two children. After having pain in his hip for 'a number of years' – and after losing in the Wimbledon quarter-finals in 2017, he took the rest of the season off. Last January in 2018 he had surgery, after which he said: "I'm not finished playing tennis yet. I'm going to be competing at the highest level again. However, Twelve months – and only seven tournaments – later, he gave an emotional news conference before the Australian Open, expressing that this could be his final tournament.
It was believed that Murray may have had hip impingement – essentially a problem with the ball-and-socket joint. Repetitive and heavy hip flexion had most likely damaged the cartilage of the socket which can lead to deformity of the ball. This is a common injury in high-impact sports such as martial arts, rugby and gymnastics but less so in tennis. Murray however because he is such a high impact player, sliding around the court and running for up to 4 hours at a time on court, would have put his joints under tremendous stress and consistent impact. Any further surgery that Murray was to consider from here would be just to improve quality of life and to "sleep, walk, be with his kids, play."
What is hip resurfacing?
On January 28, 2019 Murray decided to have a hip resurfacing operation at a London hospital performed by orthopaedic surgeon Sarah Muirhead-Allwood. Murray was confident with his choice of surgeon as she had operated on Prince Phillip's hip the year before and even before that on the Queen Mother. The only concern he had was that he didn't know how the operation would translate to working on an athlete.
"I asked her 'how do I know you're good?'" he wrote in his BBC Sport column. "I wasn't doing it to be rude but, in sport, you can tell how good someone is by their ranking. But how I do know a surgeon is good? She just said to me 'well, you don't'.
"She was very honest and I admired that. She didn't promise I would get back to playing.
"I didn't want to have someone telling me 'you'll definitely be back and winning Wimbledon in five months' because it wouldn't have been true."
Murray admitted the pain had got so bad that it affected his mental health. It got to the point where even taking his children to a soft-play centre was agonising. The surgeon explained that the operation was a method of keeping more of the damaged bone than a full hip replacement, smoothing the ball down and covering it with a metal cap.
Resurfacing is a lighter touch approach than a whole hip replacement, where both the top of the thighbone and the socket into which it sits are replaced with artificial versions. Instead in an attempt to lessen the wear on the bone at the top of the thigh, the femur is smoothed down and covered with a metal cap, while a layer of metal is placed within the pelvic socket in which it sits.
Rather than bone rubbing against bone, causing severe pain, metal rubs against metal whilst a significant amount of the patient's original bone around the hip area remain intact. The idea is around bone conserving.
Why resurfacing and not a total hip replacement?
Every year around 100,000 people undergo primary hip replacements in the UK, at an estimated cost of £600 million per year. Most patients have a total hip replacement (THR) where a damaged hip joint is completely replaced with an artificial one. This is typically carried out on people between the ages of 60 and 80. However, this procedure has been reported to fail in younger patients with more active lifestyles –the stiff metal stem in the thigh bone can cause trouble.
The alternative type of surgery is hip resurfacing, which is carried out on younger patients. Unlike THR, the surgeon only removes the diseased cartilage of the hip joint and resurfaces the joint – until now with a metal-on-metal implant. This approach is less invasive and leaves the patient with greater mobility after surgery.
More of the bone is left in the hip joint, so the patient feels more normal, and can be more active. For young active patients such as sportsmen such as Murray, metal hip resurfacing already lasts longer than total hip replacement. However, in some patients, metal particles are released by the implant, causing tissue reactions around this such as swelling and soreness. This can lead to resurfacing implants failing and patients requiring further surgery.
Women, however, are unable to have hip resurfacing surgery, as the metal implant doesn't fit their hips bones properly leading to higher failure rates. As a result, women can't have this surgery and their only option is a total hip replacement, whatever their age.
There are however risks in this surgery as all operations, however, even if the surgery has corrected the issue, the metal components can wear out after 10 to 15 years – earlier if the patient is very active – and revision surgery, which can be more challenging and produce poor outcomes, is often required.
What are the other alternatives for hip pain?
Hip pain is difficult to live with on a daily basis but it can be treated with stem cell therapy, AMPP® Activated Mesenchymal Pericyte Plasma (using Lipogems® technology) and Platelet Rich Plasma (PRP) treatment.
Someone who has such significant damage as Andy Murray and who is in such pain there are few other options but there are alternatives, although non will be perfect.
Hip conditions which can be treated with AMPP® and PRP therapy include:
· Hip injuries
· Osteonecrosis
· Tendinitis
· Other degenerative conditions relating to the hip joint
Hip pain is difficult to live with on a daily basis but it can be treated with stem cell therapy, AMPP® Activated Mesenchymal Pericyte Plasma (using Lipogems® technology) and Platelet Rich Plasma (PRP) treatment.
The hip joint is a ball and socket structure and is made up of bone, cartilage and a thickened piece of fibro cartilage called the labrum. There is a joint capsule which is reinforced by ligaments. The joint is surrounded by muscles which make the hip generally a stable joint.
The most common problem with the hip is osteoarthritis, which is degenerative and due to wear and tear. Osteoarthritis happens when inflammation and injury to a joint cause the cartilage tissue to break down. This causes swelling, pain and deformity.
There are many other structures around the hip which can cause pain. Bursitis can be very painful and occurs when the lubricating sacs near tendons become inflamed and fill with fluid.
Tendons (which attach muscle to bone) often become painful near the hip. The tendon can degenerate and lose its normal strong structured fibres and become thick and partially torn. This is called tendinitis.
If a hip problem is not corrected, long term pain management is required. Hip surgery, hip replacement surgery and hip resurfacing are often recommended to patients to help stop the pain. Hip surgery can be traumatic and is followed by months or recovery.
Hip Stem cell therapy, AMPP® and Platelet Rich Plasma (PRP) treatment provide a non-surgical option for people with hip pain. The treatments are minimally invasive, can decrease inflammation, stop the progression of arthritic damage and repair joint cartilage. The recovery time is also much shorter than with surgery.
After the operation, Murray faced months of rehabilitation and uncertainty and there was no guarantee that he would ever play competitively again. However Murray says he is now pain free after having the hip resurfacing operation.
He appears to have completely defied the professionals who offered that "90 to 95% of patients who have this surgery are delighted and live a pain-free life – they can ski, swim, cycle and play golf at the weekend.
"But none of them try to play professional tennis."
He is playing and competing and most surprisingly winning.
"There have been a number of times over the past 18 months where I did want to stop. I was getting no enjoyment out of tennis at all, whether that be training, practices or matches. I wasn't bothered about winning matches either because it wasn't fun. Now I like playing tennis, getting out onto the court and hitting balls. I want to keep playing if I can because now I enjoy it."