The human body is made of a variety of different types of cells that come together to perform various functions. In comparison, this is much like a city. In order for the city to function there are groups of people that perform different tasks. Policeman keep the peace, cleaners keep the streets clean, water work engineers make sure that households have water and healthcare professionals look after the sick. Different groups of cells in the body perform functions in much the same way. The kidneys filter and clean the blood, the muscles allow us to move our bodies and our skeleton has a support function which works in synergy with the muscles to allow us to move.
Similar to how individuals can be trained into different professionals, stem cells are groups of cells that have the potential to become any of the specialist cells in the body such as muscle, skin, bone, cartilage and blood.

What is Stem Cell Banking
Stem cell banking is the latest way to look after yourself and your family in the long run. By storing these healthy cells using cryo-preservation in our facility, we are capable of thawing them at a later date to treat you for a variety of degenerative diseases. Once the cells have thawed, we can use them to regenerate or repair a large variety of damaged tissues in your body.
In a mildly invasive mini-liposuction procedure, fat tissue is removed from the belly and both the micro-fragmented fat and stem cells are isolated from this material in a clinically sterile environment.The samples are carefully frozen maintaining their viability at minus 150 degrees centigrade and can be stored in this condition for decades until required for use when they can be rapidly prepared for therapeutic treatment within hours.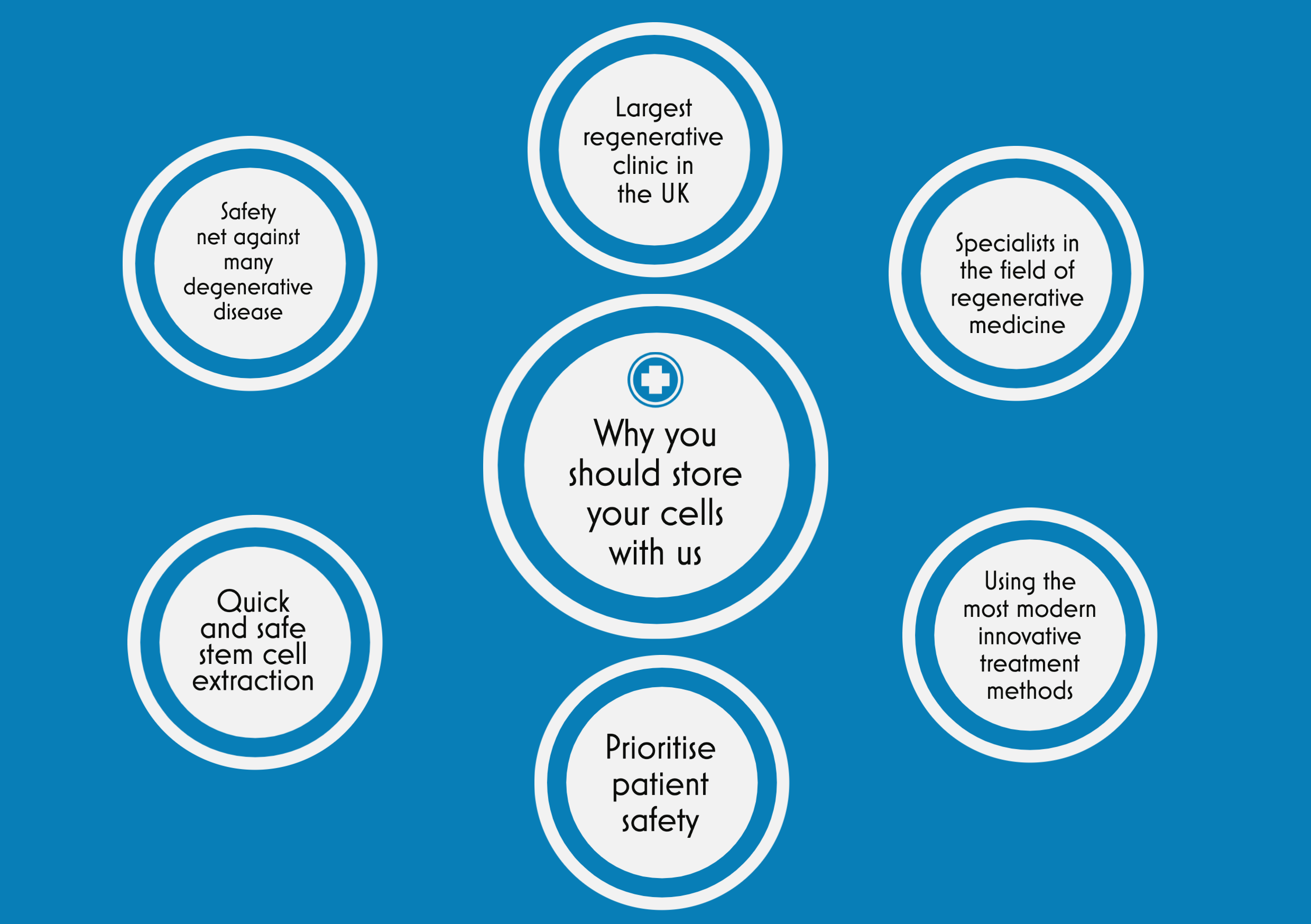 What can be treated using stem cells?
At the Regenerative Clinic our team of clinicians and surgeons have discovered the advantages of using stem cells treatment to help our patients delay invasive treatments like knee replacements. Mesenchymal cells are used to treat the symptoms of degenerative joint diseases and aid in recovery after surgery.
By storing their cells, a patient can come back to us years later for a simple injection of stem cells within minutes. Also, new research indicates that the use of stem cells will become increasingly popular as the technology advances. Click here to read published clinical evidence.
Initial research shows that in the future stem cells could treat the following conditions:
Autoimmune Diseases
Systemic Lupus

Erythematosus (SLE)

Rheumatoid Arhritis
Sickle cell anaemia and complications
Muscle tendon ligament and cartilage
Sports injury

Joint pain/injuries

Vesicular necrosis (AVM)
Diabetes complications
Diabetic for ulcer

Neuropathy

Erectile dysfunction

Blood Vessel Disease

Kidney Disease
There are currently ongoing clinical trials testing stem cells on the repair of heart tissue after heart attack; stroke and brain and spinal cord injury; Alzheimer's disease and dementia; Parkinson's disease; bone and muscle regeneration; wound healing and burns; diabetic complications and auto-immune conditions including multiple sclerosis.
MFAT is the current state-of-the-art injectable biological treatment used by the regenerative clinic for pain medium-long-term pain relief in osteoarthritic joints. There is also evidence demonstrating its capability to protect joints and induce self-healing or regeneration. In addition, highly successful applications of its use have been seen in the fields of aesthetics, burns recovery, diabetic ulcer healing, gynaecological conditions and colorectal diseases. 
The MFAT is derived from a relatively non-invasive liposuction procedure following which the fat is washed and processed and then re-injected into the site of interest. Conservation of spare MFAT obtained during this process is valuable for future potential use by the patient in any of the circumstances described above and in addition some procedures may require a later 'top up' injection (e.g. in severe osteoarthritic joints), or multiple injections over time such as in aesthetic skin rejuvenation. 
Since mesenchymal stem cells are also derived from the same MFAT, both MFAT and stem cells can be conserved for later use, whilst at the same time avoiding the necessity for further lipo-suction procedures, reducing the cost of treatment and providing a 'ready to use' service for therapy.    

Are one of the most promising treatment options for the repair of heart disease because they can be made to turn into new heart tissue and coronary blood vessels. An added bonus is that the transplanted stem cells also enhance the function of resident heart cells. Clinical trials of MFAT cells as a therapy for cardiac disease have shown promising results providing a potential new treatment for coronary artery disease, heart arrhythmias, congenital birth defects, heart attacks and stroke.
Further Reading
There are numerous phase II and phase III clinical trials in progress where mesenchymal stem cells from sources including adipose tissue and bone marrow-derived are currently being tested for the treatment of the most common types of stroke, Parkinson's disease, spinal cord injury and multiple sclerosis amongst others. It is likely over the next few years that stem cell therapy will provide the basis for the most effective therapeutic treatments in neurological conditions. 
Further Reading