Skip to content
Skip to main menu
Departures to the USA from the UK
The Regenerative Clinic is proud to offer Same Day , Next Day , Express 60-Minute and Express 4-Hour COVID-19 PCR departure testing with 'Fit to Fly' certificates at our clinics in Bournemouth, Brighton, Cambridge, Canary Wharf, Kingston, Leicester, Manchester, Marylebone, Paddington, Putney, Reading, and Southampton.
Departures to the USA from the UK
All travellers will need a negative departure COVID-19 test within 1 day before their flight to the USA regardless of vaccination status or citizenship. We recommend our Same Day PCR test or our Rapid Antigen test .
We only take Covid test bookings to those travelling to and from the USA via our online booking links below and not via the phone. If you require other assistance in regards to departure and arrival Covid testing for the USA, call our 24/7 customer service team on 0203 637 5566. You can also see our commonly asked questions around Covid testing for flights into and out of America below.
Covid-19 Antigen Rapid Test
Tests current infection status
Accepted for some international travel, please check your countries requirements
Result certificate within 4 hours
Covid-19 PCR Test 60-Minute Results (Not A Day 2 Test)
Results in 60-Minutes from appointment
Nose and throat swab performed in clinic
Digital 'Fit to Fly' letter included
Covid 19 PCR Test 4-hour Express
Results in 4 hours from appointment (must be before 6pm)
Nose and throat swab performed in clinic
Digital 'Fit to Fly' letter included
Covid-19 PCR Test Same Day Result
Results provided same day if appointment before 6pm
Nose and throat swab performed in clinic
Digital 'Fit to Fly' letter included
Covid-19 PCR Test Next day Result
Results provided within 24-36 hours (appointment any time)
Nose and throat swab performed in clinic
Digital 'Fit to Fly' letter included
Proof of Recovery Letter
The Regenerative Clinic is proud to offer patients a Letter of Recovery for those who have had a positive Covid-19 test in the last 6 months.
Certify recovery from previous COVID-19 infection
Available to book online today
Upload positive cover PCR/LFT result
Letters emailed within 8 hours
Please note: this is not a COVID-19 Test
Entering the USA? Who needs to take a Covid-19 test?
If you are 2 years of age or older, regardless of your vaccination status, you will need a test before travelling to the USA.
All travellers will need a negative departure COVID-19 test within 1 calendar day before their flight to the USA regardless of vaccination status or citizenship.
You can also show proof of recovery in the last 90 days if you have recently had Covid-19.
You also need to fill out a passenger attestation
Who can travel the USA at the moment?
Fully vaccinated, negative-tested foreign nationals, US nationals, LPRs, immigrant visa holders and US citizens can enter with a COVID test 3 days before departure (with a few exceptions you can see on their website) and unvaccinated US citizens, US nationals, immigrant visa holders and LPRs with a negative test within 1 day of departure. That means both unvaccinated nationals and permitted persons can enter; plus Covid-19 double vaccinated travel to the US is permitted for all foreign nationals, but there are different testing requirements.
When travelling to America, what does it mean to be fully vaccinated against Covid-19?
The CDC considers you to be fully vaccinated if you have received an accepted vaccine and it has been more than 2 weeks or 14 days since your final dose. Full details are available on the CDC website here. You'll still need a NAAT or Covid-19 PCR or rapid antigen for US travel test.
When travelling to USA, what information does your Covid-19 vaccine card have to have?
Your vaccine documentation needs to have a QR code or be accessible via smartphone app with a code. Or you need to have a printed copy of your vaccination certificate from a national or subnational provided (recognized). Or digital photos of a vaccination card/record, downloaded copy from a government or official health source or an app without a QR code. This document needs to show your full name plus one other identifier, name of who issued the certificate, the dates of vaccination and the vaccine received.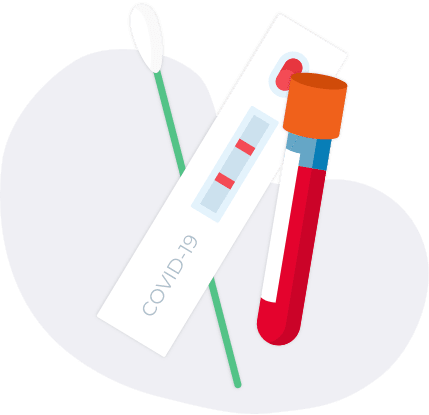 Can I get a Covid-19 home kit test before entering the US?
Yes, but it must be a viral antigen test or NAAT – this includes PCR, MALP or transcription-mediated amplification test. This also means a Covid-19 lateral flow test for US travel is approved. But it must have EUA from the USA. It needs to also have a telehealth video/audio element. And the provider must issue a report with the name of the lab, type of test, specimen collection date and patient info.
Why can't I get a pre-departure test as a home kit when travelling to America?
You can but it needs to be on video and audio. According to AFAR, this means "The testing procedure must include a telehealth video call during which someone authorized by the manufacturer supervises the testing procedure. (Note that some FDA-authorized self-tests that include a telehealth service may require a prescription, according to the CDC.)" It must also be approved by the US FDA and the provider must issue the correct kind of report.
Can I take a Covid-19 Rapid Antigen test to enter the USA?
Both vaccinated and unvaccinated travellers can take a PCR or antigen test. But it's best to have this test administered in a lab environment, this is because of the audio/video requirement for home testing kits.
Why should I visit a clinic to get my Covid-19 test for travel to America?
A clinic visit is the fastest and easiest way to get a US approved test result. You can't have it done at home unless your provider offers a video/audio service to verify your result and there are not many providers offering this as a service. Plus, over the holiday period – it's best to avoid relying on the postal service due to seasonal delays.
Why should I use The Regenerative Clinic for my travel to USA Covid-19 Fit to Fly test?
First, you need these results quickly. You only have 1-3 days before travel to meet these strict requirements. We have 12 clinics to serve you with in-clinic tests. Remember, home tests are not accepted unless they are approved by the FDA and administered with a video/audio component. Since we have our own lab, we can provide our own quick turnaround times. We're managing the process from start to finish. And our trained HQ staff can help with any questions you might have about US entry requirements. If you need more support, we offer 24-hour customer service as well.
Why are our antigen Covid-19 tests priced at £39 rather than £19?
You're paying more for an in-clinic test with guaranteed punctual results. That's important when you only have a small 1 to 3-day window to take the test and get your results back. If you need a Covid-19 same day PCR for US travel, our 12 clinics are conveniently located around the city and our lab is in central London. We own the whole process from start to finish so we can commit to fast turnarounds. All our testing team are trained practitioners and we offer 24-hour customer service from our London HQ.
What if I test positive for Covid-19?
If you test positive you won't be able to travel to the USA.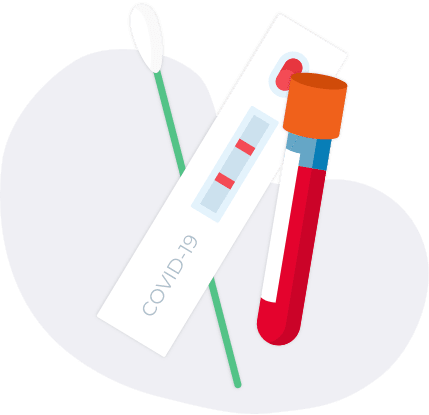 Are there any Covid-19 testing exemptions when travelling to the USA?
There are some exemptions to the Covid-19 PCR test for US travel. According to the CDC, "Exemptions may be granted on an extremely limited basis when emergency travel (like an emergency medical evacuation) must occur to preserve someone's life, health against a serious danger, or physical safety and testing cannot be completed before travel." Check the Covid-19 Travelling to US guidelines and Travelling to US testing requirements for full info from the US Embassy.
How accurate are your Covid-19 tests when travelling to the USA?
The sensitivity of our Covid-19 tests for US entry depends on the type of test that you select, but all our tests are highly effective at detecting the presence of the virus within the body and all meet the required sensitivity levels necessary for entry into the US. Depending on the test, you'll get a nasal and throat swab or just a nasal swab. We can provide same-day turnaround and our testing certificate meets the US Covid-19 testing requirements for entry into the United States.