Skip to content
Skip to main menu
Southampton Covid 19 PCR Testing
(Same Day and Next Day Covid 19 PCR Service)
The Regenerative Clinic Covid-19 PCR testing centre in Southampton.
Same day PCR test results now available in Southampton. We can offer same day results if your appointment is before 12 noon, and our dedicated couriers take the samples directly to our own laboratory for analysis.
We only take bookings via our online booking links below and not via the phone. If you require other assistance, call our 24/7 customer service team on 0203 637 5566.
Covid-19 Departures Testing
Covid-19 PCR Test 60-Minute Results
Results in 60-Minutes from appointment
Nose and throat swab performed in clinic
Digital 'Fit to Fly' letter included
Covid-19 PCR Test Same Day Result
Results provided same day if appointment before 12pm
Nose and throat swab performed in clinic
Digital 'Fit to Fly' letter included
Covid-19 PCR Test Next day Result
Results provided within 24-36 hours (appointment any time).
Nose and throat swab performed in clinic
Digital 'Fit to Fly' letter included
NEW Departure Rapid Antigen Home Kit 
Current infection status
Swab performed at home
Results in 8 hours
Covid-19 Antigen Rapid Test
Tests current infection status
Accepted for some international travel, please check your countries requirements
Result certificate within 4 hours
Covid-19 Antibody Rapid Test
Previous infection status
Finger prick blood test in clinic
Result certificate within 24 hours
How do I find your Southampton Covid-19 PCR Clinic?
Our Southampton Regenerative Wellbeing clinic is located within the Westquay Centre in Southampton. The Regenerative Wellbeing is centrally located for easy access from the centre of Southampton whether you're travelling by foot, car or train.
By car, our wellbeing centre is in the centre of Southampton within the Westquay Centre. The nearest car park is NCP Car Park Southampton Portland Terrace. Parking charges apply.
The nearest mainline train station to the centre is Southampton Central Train Station.
Address: Westquay Centre (SU67, next to Krispy Kreme and opposite Men Kind), Harbour Parade, Southampton SO15 1QF.
Opening Hours
Monday-Friday: 9:00-19:50
Saturday: 9:00-18:50
Sunday: 11:00-16:50
Summer Bank Holiday Hours
Early May Bank Holiday – 2nd May: 9am-6pm
Spring Bank Holiday – Thursday 2nd June: 9am-6pm
Platinum Jubilee Bank Holiday – Friday 3rd June: 9am-6pm
Summer Bank Holiday – Monday 29th August: 9am-6pm
How can I get a same day Covid-19 PCR test and results?
We are a testing centre with headquarters in Central London and labs across the UK, offering same day Covid-19 PCR test results. We have an in-house laboratory testing facility that is CQC compliant.
We control the whole client pathway from swab to result preventing delays that can come with swab transportation from testing clinic to laboratory. We have two in-house PCR analysis machines with a team of technicians working around the clock. One machine is dedicated to same day results, which means we can guarantee a same day result for our clients.
Why should I use the Covid-19 PCR Testing clinic, Southampton?
Our Covid-19 PCR testing operation was set up during the early days of the response to the pandemic, and we have honed our testing protocols through the various stages of lockdowns, tiers and travel restrictions.
We have issued over 350,000 Covid-19 test certificates and have a proven, high-quality testing service. We can now offer this service through our Southampton site, in the most convenient City Centre location. No need for an extra visit to the airport, or to an out of the way specialist clinic – just book online and walk-in for your test.
And if you need a same-day Covid-19 PCR test, you can take the test up until 12 noon and still receive the results the same day.
When should I consider a same day Southampton Covid-19 PCR test and result?
A same day Covid-19 test result offers much needed reassurance, or quickly confirms a suspected case. Covid-19 testing for the purposes of fit to travel or return to work are not currently available on the NHS. Additionally, if you are eligible for a test on the NHS you could be waiting up to 5 days for your result.
Why is it difficult to get a same day result Covid-19 PCR test in Southampton?
Covid-19 PCR swabs need to be analysed in a specialised laboratory, and there are very few of these labs in Southampton. Current testing clinics will require group transportation of swabs samples (usually once a day) to a chosen laboratory that has a slot free. Our laboratory is an in-house facility and dedicated to our clients and their results. The samples are transported by our medical couriers, safely and straight to the laboratory ensuring we know where your swab is at all times and allowing a fast turnaround of results.
What is the Covid 19 PCR test travel certificate? And do you provide them in Southampton?
If you are hoping to travel abroad, you should check the latest government guidelines for updates on the country you are visiting. Many destinations require proof of a recent Covid-19 test in the form of a travel certificate. If you are unable to provide this it means you may not be permitted to enter the country.
The type of test required for travel depends on the latest government guidelines for the country you intend to travel to. The Covid 19-PCR test is internationally recognised as the gold standard of Covid-19 screening and therefore a negative PCR test result may be necessary for entry into another country.
Your certificate containing your Covid 19 PCR test result is signed by our Medical Director, and emailed to you. It is approved for travel ("known as "Fit to Fly"). It can then be printed out or used digitally via your smartphone. If you require this document as a hard copy you will be responsible for printing this.
When can I not get a Southampton Covid-19 PCR test?
If any of the below statements are true you will not be permitted to visit our Southampton clinic.
You have tested positive for Covid-19 in the last 10 days.
You have experienced any symptoms of Covid-19 in the last 10 days.
You have knowingly had contact with someone with Covid-19 within the last 10 days.
You have travelled from a red list country in the last 10 days.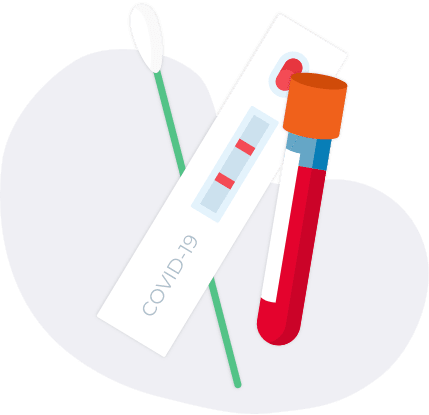 What is the difference between a private PCR COVID-19 test and a Lateral Flow Test?
A private Covid-19 PCR test provides the certificate of testing that airlines and most overseas countries require to travel and enter those countries. It is considered the gold standard of Covid-19 testing as it can reliably detect if you are currently infected with the virus. A lateral flow test, or antigen test, gives a good indication of coronavirus when the infection is at its peak, but is not quite as reliable as the PCR test.
The latest travel testing requirements means that some countries are now accepting Covid-19 Lateral Flow (rapid) tests for entry, please check your specific requirements before booking a test with us.
Why do I need a private Covid-19 PCR test to get a Fit to Fly certificate?
We provide private Covid 19 testing in Southampton and across the UK to meet the needs of travellers and other people who need a private Covid-19 test, with a certificate provided for all PCR tests. Some countries are now accepting Rapid Antigen (Lateral Flow) tests to enter. Please check your destination countries COvid-19 guidelines before booking with us.
Do you require a Covid-19 test for travel to Hong Kong?
If you are travelling from England to Hong Kong on Cathay Pacific we can provide your Covid-19 PCR test and Fit to Fly certificate. However, due to different guidelines, if you are travelling on British Airways we are currently unable to provide your test and certificate.