Skip to content
Skip to main menu
Rapid Antigen Test
This is a Healgen 'Rapid Test' (sometimes called a Lateral Flow test), not a RT-PCR. It is only suitable for travel to some countries.  Please check before ordering this service. You will receive a result certificate within 4 hours.
Important Information Before Booking
Please bring your ID with you to your appointment.
Remember to wear a mask to your appointment and ensure that you are have been symptom free for the last 14 days.
Please do not arrive early for your appointment and note that we won't allow anyone else in with you.
Please choose your appointment slot below and enter your patient and payment details to confirm.
View all our testing locations and FAQ's below.
What is a Healgen Rapid Antigen Test?
Rapid antigen tests (lateral flow testing) are a rapid diagnostic method to check for the presence of viral antigens when a person has Covid-19. Rapid antigen tests are useful for finding out if a person is currently infectious, and able to transmit the virus to others. It does this by detecting a protein from the nucleocapsid (a membrane found inside the virus). Rapid antigen tests will only report a positive result if the test detects the target membrane protein of the virus. Therefore, Rapid antigen testing is better suited to identifying those who are currently infectious and most likely to spread the virus further. This can help to reduce the risk to others of exposure to Covid-19.
How is a Healgen Rapid Antigen Test administered?
The Regenerate Clinic uses a Antigen Rapid Test Cassette which requires a nose and throat swab performed in clinic by a medical professional. This shows whether you are currently infected with the virus. We offer Rapid Antigen tests with a Fit to Fly at all our in-clinic locations.
When will I get my results and my Fit to Fly certificate?​
You will receive your results and a fit to fly certificate within 4 hours of taking your Rapid Antigen test. Results will be sent to you directly via email from diagnostics@theregenerativeclinic.co.uk, please do check your junk or spam folder and if you have not received it after the 4 hours you should contact our customer service team on 020 3637 5566.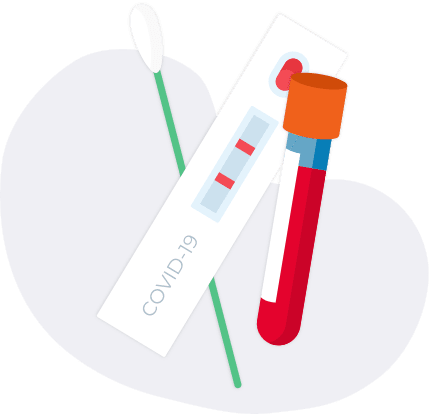 What is the difference between a PCR and Rapid Antigen Tests?​
A private Covid-19 PCR test provides the certificate of testing that airlines and most overseas countries require to travel and enter those countries. It is considered the gold standard of Covid-19 testing as it can reliably detect if you are currently infected with the virus. An antigen test, or a lateral flow test, gives a good indication of coronavirus when the infection is at its peak, but is not quite as reliable as the PCR test.
The latest travel testing requirements means that some countries are now accepting Covid-19 rapid Antigen (Lateral Flow) tests for entry, please check your specific requirements before booking a test with us.
I have symptoms, can I have a Rapid Antigen Test?​
If any of the below statements are true you will not be permitted to visit our clinics.
You have tested positive for Covid-19 in the last 10 days.
You have experienced any symptoms of Covid-19 in last 10 days.
You have knowingly had contact with someone with Covid-19 within the last 10 days.
You have travelled from a red list country in the last 10 days.
See our other tests
Departure Rapid Antigen Home Kit 
Current infection status
Swab performed at home
Results in 8 hours
Digital 'Fit to Fly' letter included
Covid-19 PCR Test 60-Minute Results
Results in 60-Minutes from appointment
Nose and throat swab performed in clinic
Digital 'Fit to Fly' letter included
Covid-19 PCR Same Day
Results provided same day if appointment before 15:30 on weekdays and 13:30 on weekends
Nose and throat swab performed in clinic
Digital 'Fit to Fly' letter included
Results provided same day
Covid-19 PCR Next Day
Current infection status
Nose and throat swab performed in clinic
Fit to Fly certificate included
Results provided by midnight
Covid-19 Antibody Test
Previous infection status
Finger prick blood test performed in clinic
Results in 24 hours
Please read our booking terms and conditions before making an appointment.
Partial refund (50%) if you cancel on the same day of your test.
Full refund minus £10 admin fee will be issued if you cancel before the day of your test.
Please allow 5-10 business days for transfer.
See our full Covid Terms and Conditions.