Shoulder arthritis: causes, diagnosis and treatment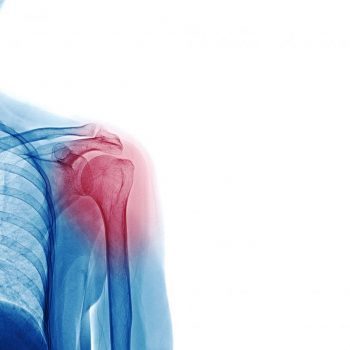 Did you know that shoulder arthritis has a variety of causes? This condition doesn't just affect the elderly, but it can affect young people too.
Mr Jagwant Singh, one of the consultant shoulder and elbow surgeons based in London, to discuss the condition and some key information patients should know.
What are the main causes of shoulder arthritis?
Arthritis means damage to the cartilage. The cartilage is the layer of padding that covers joints to allow smooth movement and absorbs shock. The initial pain in arthritis is due to inflammation, followed by pain coming from mechanical friction of raw bones rubbing against each other.
The shoulder joint comprises of the humeral head (ball), the glenoid (socket). Above the shoulder joint, there is another joint between collar bone (Clavicle), and shoulder blade (Scapula). This is known as Acromio-clavicular (AC) Joint. Shoulder arthritis occurs when the cartilage protecting the bigger ball-and-socket joint deteriorates. This could be due to:
Osteoarthritis, that mainly develops in elderly.
Trauma, fractures, dislocations, rotator cuff tears and shoulder instability, that mainly occurs in younger people (under 70 years old).
Other causes include rheumatoid arthritis, an autoimmune disease; post-traumatic arthritis; disrupted blood supply (Avascular necrosis).
What treatments or medication can a consultant offer?
Before any treatment, the consultant specialist starts with an assessment of the shoulder. It is important to consider the history and other factors, such as previous injuries. A correct diagnosis is needed before correct treatment can be started. Focussed examination, followed by relevant imaging of shoulder joint, is needed to confirm the diagnosis.
Shoulder pain and symptoms have different causation in different age groups. In the earlier years, it could be caused by instability, rotator cuff problems, frozen shoulder syndrome, and biceps pathology. As there are various potential causes, it's important that a correct diagnosis is made. Investigations such as MRI scans help in making a diagnosis, and ultimately, in guiding treatment to relieve symptoms and improve function.
Over the counter analgesics, physiotherapy, and steroid injections have a role. Treatment plans should be tailored for patients. This includes surgical and non-surgical options. Appropriate rehabilitation is also important.
Exercise has a role in maintaining muscle strength and reducing pain. It doesn't reverse the degeneration process that has already set in but certain lifestyle choices have shown to ease pain and progression of arthritis, in addition to improving quality of life.
When would surgery be necessary?
If medications, physiotherapy, and injections do not relieve pain, then surgical intervention would be recommended. Most of the time, early shoulder arthritis can be managed with injections and physiotherapy. However, if there is advanced arthritis, or if there is a structural problem in the shoulder joint that generates pain, for example massive rotator cuff tears, then that may need surgery.
Cartilage tears and frayed biceps tendon are also pain generators. Sometimes, osteophytes (bony lumps) can grow as a response, which can cause pain. If the arthritis has progressed to a severe stage, then joint replacement to control symptoms and improve function may be needed.
AC Joint arthritis is different. The treatment for severe pain is simply excision of end of collar bone. This can be done via a keyhole or open surgery. This provides excellent pain relief without compromising function.
Alongside this important material, The Regenerative Clinic would like to add some information on the Platelet-Rich Plasma (PRP) Therapy that we offer with our specialists.
This is an effective and well-researched procedure that's a potential alternative to surgery. It takes advantage of the blood's natural healing properties to reduce pain and improve joint function. It uses a specially concentrated dosage of platelets prepared from your own blood to repair damaged cartilage, tendons, ligaments, muscle and bone. Treatment is administered via an injection and, depending on the injury, two to six injections may be required, performed at weekly intervals. Patients usually see their symptoms improve within four to six weeks of having the injections. PRP is a safe treatment option which, because your own blood is used, carries no risk of allergic reaction. Read more information supporting PRP on the shoulder here.