Skip to content
Skip to main menu
London Express Day 2 Covid-19 PCR Testing
We are seeing a high volume of customers to our Marylebone clinic, and you may find there is no availability for your chosen date of test. Don't forget we have other London locations in Canary Wharf, Putney and Kingston.
Changes to testing regulations
From 04:00 GMT on Sunday 9 January you will only have to take a lateral flow test instead of a PCR test on day 2. But this test must be bought from a private test provider – free NHS tests are not allowed. People who are fully vaccinated and those aged under-18 will no longer need to take a test two days before travelling to England from countries outside the UK and the Common Travel Area.
Unvaccinated passengers will need to continue to take a pre-departure test, PCR tests on day two and day eight, and self-isolate for 10 days. Please see the 

Government website

 for full updates.
As featured in City AM, get rapid Day 2 COVID 19 PCR testing in London Marylebone, Canary Wharf, and Putney (4-hour express). Read about The Regenerative Clinic in City AM.
We have an in-house laboratory testing facility that is CQC compliant which enables us to control the whole client pathway from swab to result. This means we are able to offer express PCR tests with results in 4 hours. Our super-fast PCR Covid-19 tests provide Fit to Fly Covid-19 PCR certificates for most carriers.
View all our testing locations and FAQ's below.
Choose your nearest clinic
We provide Day 2 Express 4-Hour Covid 19 testing across our London clinics including Marylebone, Canary Wharf, Kingston, and Putney to meet the needs of travellers and other people who need a private Day 2 Covid-19 test.
What should I know about urgent PCR COVID-19 tests?
We have a team working 24-hours a day and use two in-house PCR analysis machines to get your results to you fast. Since one machine is reserved for same-day analysis, we can guarantee emergency PCR in London with 4-hour service in Marylebone, Kingston, Putney and Canary Wharf.
Why should I use the COVID-19 PCR Testing clinic at London, Canary Wharf or London, Marylebone?​
We've had experience offering COVID-19 PCR testing during the entire pandemic response from lockdowns to tiers and travel restrictions, so we know what's required.
To date, we've completed 10,000 COVID-19 test certificates and our accuracy is superb. We now offer a faster 3 and 4-hour turnaround with a dedicated PCR analysis machine for quicker results. That's same-day COVID-19 PCR testing in London you can trust with conveniently located sites: Marylebone, Canary Wharf, and Putney.
Why do I need a same-day London COVID-19 express PCR test?​
On the NHS, it's currently not possible to request a test for travel or return to work purposes and you could wait up to 5 days for your results too. Same-day London COVID-19 express PCR tests give you reassurance and peace of mind that you're not transmitting the disease currently.
Why is it hard to get an express COVID-19 PCR test in London?​
Well, every COVID-19 PCR swab must be checked in a special laboratory under clinical conditions. Most testing clinics only transport their swabs once a day. That means you'll -at best- receive next-day testing results. Our samples are transported by our dedicated medical couriers, on the day, directly to our in-house lab. And we've dedicated one entire testing machine to same-day requests so we can always meet the demand for same-day London COVID-19 express PCR tests. You just need to book an early appointment to get same-day COVID test results.
Do you provide COVID 19 PCR test travel certificates in London?​
If your destination requires proof of a recent COVID-19 test in the form of a travel certificate, you may not be able to enter the country without one. A COVID-19 PCR test detects if you're currently infected with the COVID. This test is the most widely accepted form of COVID-19 screening and is likely the type of test you need for entry.
A COVID 19 PCR test travel certificate is where a document containing your COVID 19 PCR test result is emailed to you. Since it's signed by our Medical Director, it is approved for travel under 'Fit to Fly'. If you need a hard copy, just print one at home.
However, as part of our home test kit package, for those in London, we can provide a visit from a healthcare professional to conduct your swab at home and deliver it back to the laboratory. Again, if this swab is delivered back to the lab by 4pm then a same day result can be available.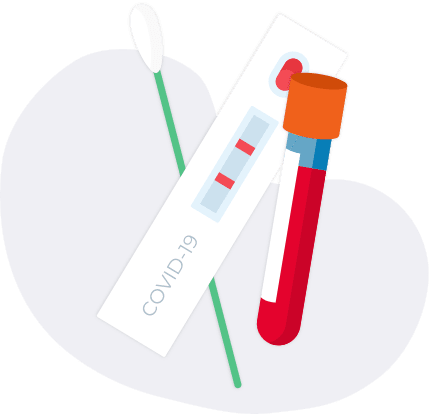 When can I not get a London express COVID-19 PCR test?​
Don't visit either of our London COVID-19 PCR testing clinics if, within the last 10 days:
You've had a positive COVID test.
You've had COVID-19 symptoms.
You've had contact with someone who has COVID or COVID symptoms.
You've come from a red-list country.
Private PCR COVID-19 test and a Lateral Flow Test – what's the difference?​
A lateral flow test is not as reliable as the PCR test and it's not accepted by many airlines as proof that you're Fit to Fly. You can always check with the country you are travelling to for confirmation before booking with us.
Can I get a Covid-19 Express Test to Release?​
Yes! We offer express COVID-19 Tests to Release our locations in Marylebone, Canary Wharf, and Putney. A Test to Release allows travellers to cut their 10-day isolation in half with a PCR test on day 5. With our 4-hour rapid PCR test service, you can find out on the same day if you're free from COVID. This will allow you to resume your normal life quicker than with other, slower testing options.
Do you require a Covid-19 test for travel to Hong Kong?
If you are travelling from England to Hong Kong on Cathay Pacific we can provide your Covid-19 PCR test and Fit to Fly certificate. However, due to different guidelines, if you are travelling on British Airways we are currently unable to provide your test and certificate.
Do you require a Covid-19 test for travel to Jersey?
We are unfortunately unable to provide Covid-19 PCR test and Fit to Fly certificate for travellers to Jersey. We are currently investigating this and will update you when we are able to provide this testing.
Please read our booking terms and conditions before making an appointment.
Partial refund (50%) if you cancel on the same day of your test.
Full refund minus £10 admin fee will be issued if you cancel before the day of your test.
Please allow 5-10 business days for transfer.
See our full Covid Terms and Conditions.