The Regenerative Lab are now approved for compulsory Government Day 2 and Day 8 Covid-19 PCR testing.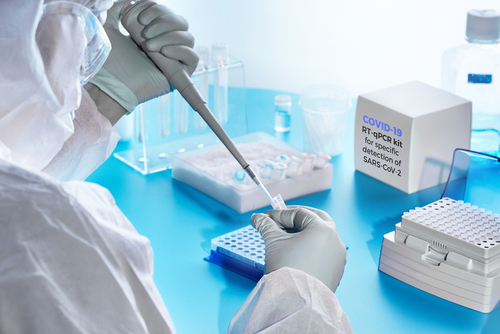 Compulsory Government travel test package - Day 2 and Day 8 Covid-19 PCR test
All International arrivals into England are required to take Covid-19 PCR tests on Day 2 and Day 8 of their quarantine. 
The purpose of the Day 2 test is for Covid-19 variant surveillance, this is a gene sequencing test that has to be done in specialist laboratories. Day 8 test is the check that you do not have Covid-19. 
If you are travelling from a non-red country, you can additionally take a Test to Release on Day 5. 
If you are arriving from a red list country you must book a test package via CTM (Corporate Travel Management). 

The day of your arrival into England is treated as Day 0.
The Day 2 test is designed to identify any potentially harmful variants of Covid-19. Tests are taken in your own accommodation and then sent to the laboratory.
If you receive a positive result – a 10 day quarantine begins the day after the test was taken (i.e. day 13). You will also not be required to take any further tests.
Take a test on or after day 8, unless you have a positive result from Day 2.   
If you receive a positive result from this test, you will be required to quarantine until day 19.
Children under five do not need to take Day 2 or Day 8 tests.
How do I book a Day 2 and Day 8 travel test package?
You can book your day 2 and 8 travel test package on our online booking portal. The date you select needs to be the date of your arrival into England (you can choose any time slot), this is your day 0.  It's important you complete all mandatory fields on the booking form otherwise your appointment won't be confirmed. 
You will receive a booking confirmation email with testing information and instructions on how to retrieve your unique booking ID. 
After your booking is confirmed you will receive 2 Covid-19 test kits in the post to the address provided. On day 2 and day 8 of your quarantine you conduct a swab sample (using instructions provided) and post back to our laboratory. Each kit comes with a free postage return label to make this as stress free as possible. 
Once your samples have been processed you will receive a digital results certificate outline the test you have had and result concluded.
What do I need to do before I travel?
Have a negative Covid-19 PCR result within the 3 days before travel
Book a Travel Test Package (£220) – for tests on Day 2 and Day 8 of your 10 day quarantine
Complete a passenger locator form (details of where you will be quarantining on arrival) – the test centre will provide a unique booking reference number to put on this form
When does my quarantine start?
Your quarantine starts the day you arrive in England – and ends 10 days after the day you arrived. You may only use public transport if you have no other option. If you have symptoms do not travel by public transport.
What if I haven't booked a test before arriving into England?
If you did not book a test before you arrived in England, you can book one after you arrive. However, you will need to complete another passenger locator form to opt into the scheme.
Before 48 hours full refund minus £25 admin fee 
Within 48 hours 50% refund, no £25 admin fee  
Within 24 hours no refund  
If you need to cancel your appointment, please call us on 0203 637 5566 between the hours of 08:00 and 19:00 (GMT).
Alternatively, please email diagnostics@theregenerativeclinic.co.uk and confirm your full name and the appointment you wish to cancel.